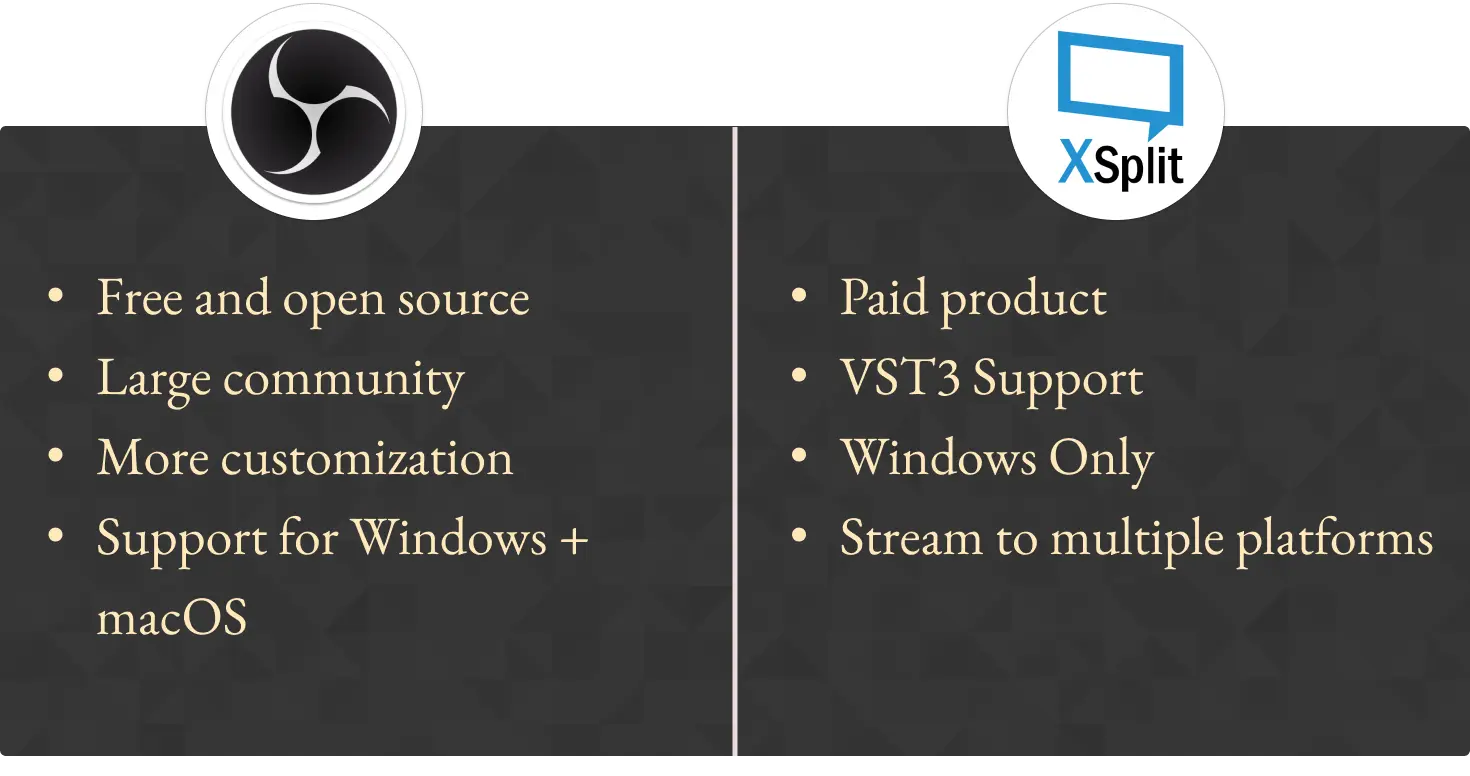 Streamers have several software options to choose from, each with unique features that cater to different needs. This article delves into an in-depth comparison between two popular tools – XSplit, a premium service, and OBS, a widely used free program. Twitch streamers extensively utilize both platforms to facilitate their streaming needs. Before we delve into the comparison, remember to install a top-rated Twitch bot to bolster moderation and engagement on your streaming platform.
Summary: Should you seek user-friendly software that is a breeze to install and navigate, XSplit emerges as the better choice for novice streamers. However, if your preference leans towards customization and total control over your streaming experience, then OBS is your go-to option. The final decision on the best streaming software for Twitch is a matter of personal needs and preferences.
Although OBS enjoys a larger user base among Twitch streamers, it is essential to note that each software has unique features that might be more appealing to different users.
An In-Depth Look at XSplit
XSplit is best known for its ability to simultaneously broadcast across multiple streaming platforms. Alongside this key capability, XSplit offers features such as 4K 60 fps streaming. Although Twitch does not yet offer 4K transcoding options, YouTube does, making XSplit an optimal choice for quality-conscious streamers targeting YouTube as their platform of choice.
The XSplit interface is straightforward and clean, facilitating easy navigation. However, the simplicity might also be its downfall as it misses out on crucial features like integrated chat. To view live stream chat in XSplit, users must navigate to the Plugin Store and install chat extensions there.
One key downside to XSplit is that most of its attractive features are gated behind a paywall. While you can download and begin using the software for free, access to the full potential of XSplit Broadcaster necessitates a premium subscription or a lifetime license. For novice streamers or those averse to technicalities often associated with OBS Studio, investing in XSplit Broadcaster may be a worthwhile venture. The interface is much simpler and more user-friendly compared to OBS.
OBS, or Open Broadcaster Software, is a free, open-source project maintained by a team of volunteer developers. It is freely available for download here.
For the purpose of this comparison, we're referring exclusively to OBS Studio, not Streamlabs Desktop (formerly Streamlabs OBS). If you're interested in information on Streamlabs, we recommend reading our comprehensive articles on Streamlabs vs OBS Studio or Streamlabs vs XSplit.
In comparison to XSplit, OBS provides a more customizable layout. Although initial navigation through settings may seem complex, the process of setting up your live stream is more streamlined with fewer steps. However, configuring Alerts in OBS requires more effort than in XSplit due to the lack of a direct plugin store. Instead, you have to set up alerts using an online dashboard such as Streamlabs and add them into OBS as a browser source.
While XSplit boasts a built-in plugin store, OBS empowers its users with the flexibility to add unique plugins from their forum, enabling the creation of more interesting designs and assets. If you're comfortable with a bit of technical tinkering to manage live streams or record videos, OBS might be your software of choice.
Pros of OBS
Large plugin ecosystem
Integrated chat feature
Customizable layout with movable docks
Audio mixer
Cons of OBS
Only supports single platform streaming
Requires a learning curve for new users
XSplit vs OBS: Final Considerations
Now that we've extensively covered the two leading live streaming and video recording software for gaming, we will compare them based on individual criteria to help you determine the best fit for your needs. Streamers prioritize different aspects; while some may emphasize performance, others might prefer free software for budgetary reasons. If you're particularly concerned about factors like CPU usage and cost, here's a comprehensive breakdown of OBS Studio vs XSplit.
Ease of Use XSplit's simplicity makes it user-friendly and quick to master. OBS, being open-source software, has a wide range of useful functionalities and tools that require installing plugins. While OBS offers a more robust feature set, it can be a bit challenging for new streamers compared to XSplit.
Interface Navigating XSplit's simplified interface is a breeze. However, OBS offers a Modular 'Dock' UI that permits you to customize the layout according to your preferences.
Performance XSplit generally requires more CPU resources than OBS. For those keen on conserving CPU usage, OBS might be the more suitable option. XSplit's higher PC requirements make it less suitable for those using lower-specification systems.
Compatibility While OBS is compatible with Windows, Mac, and Linux, XSplit only operates on Windows systems.
Customization Although XSplit provides a wealth of customization options, OBS's open-source nature gives it the edge in this category. With an array of plugins, themes, and tools available on their forum, you can customize OBS to suit your preferences. Its Modular 'Dock' UI also makes layout rearrangement straightforward.
Community and Support Both OBS and XSplit have vast communities of users and developers ready to provide assistance on their respective forums. XSplit also has an active support team for immediate help when needed.
Pricing As a free software, OBS has a clear advantage in this category. XSplit, though a paid software, does offer a free version for users to try out.
Video and Audio XSplit boasts an audio and video optimization feature, making it an excellent choice for streamers prioritizing high-quality streams.
Video Recording Both platforms offer video recording capabilities, but XSplit stands out with its ability to produce 4K videos at 60 fps.
Live Streaming Both platforms excel at live streaming, with XSplit being easier to set up and OBS providing greater control over the live stream.
Frequently Asked Questions
What are OBS and XSplit? OBS and XSplit are two widely used tools for live streaming on platforms like Twitch, YouTube Live, Facebook Gaming, and more. They are essentially software encoders that convert audio and video input into a digital format that can be played across various devices.
Can you stream to different platforms on OBS? Natively, OBS does not support multi-platform streaming. However, this feature can be added using third-party tools like Restream.io and other plugins.
Is XSplit Premium worth it? For those new to podcasting or wanting a simpler, feature-rich platform, upgrading to XSplit Premium can be beneficial.
Which uses less CPU, XSplit or OBS? OBS generally requires less CPU resources than XSplit.
Is OBS or XSplit better for recording? The best choice depends on your specific requirements. While OBS performs better, XSplit supports 4K screen capture. OBS is great for smooth, hassle-free recording, whereas XSplit provides higher-quality video.
XSplit vs OBS: Which is better for podcasting? The choice between XSplit and OBS for podcasting is primarily dependent on your personal preference and needs. While XSplit offers a user-friendly setup, OBS requires some getting used to but provides more customization options. Your choice will ultimately depend on your specific needs and comfort level with each platform.
XSplit vs OBS: Which is better for live streaming? OBS is what we recommend for live streaming, since it allows you to benefit from robust Twitch integration and a thriving plugin ecosystem.
Remember, podcasting or streaming isn't just about the software you choose, it's also about your connection, your content, and how you engage with your audience. Make sure you're ready on all fronts and you'll have a successful streaming career ahead. Happy streaming!